In collaboration with Stanford University's d.school, we have spent the last four years thoughtfully designing a 26 piece toolkit to equip students with the skills, knowledge and confidence to become purposeful navigators of their lives. Wayfinder Toolkits are designed to be taught in high schools, colleges and other educational organizations as a year-long, weekly program.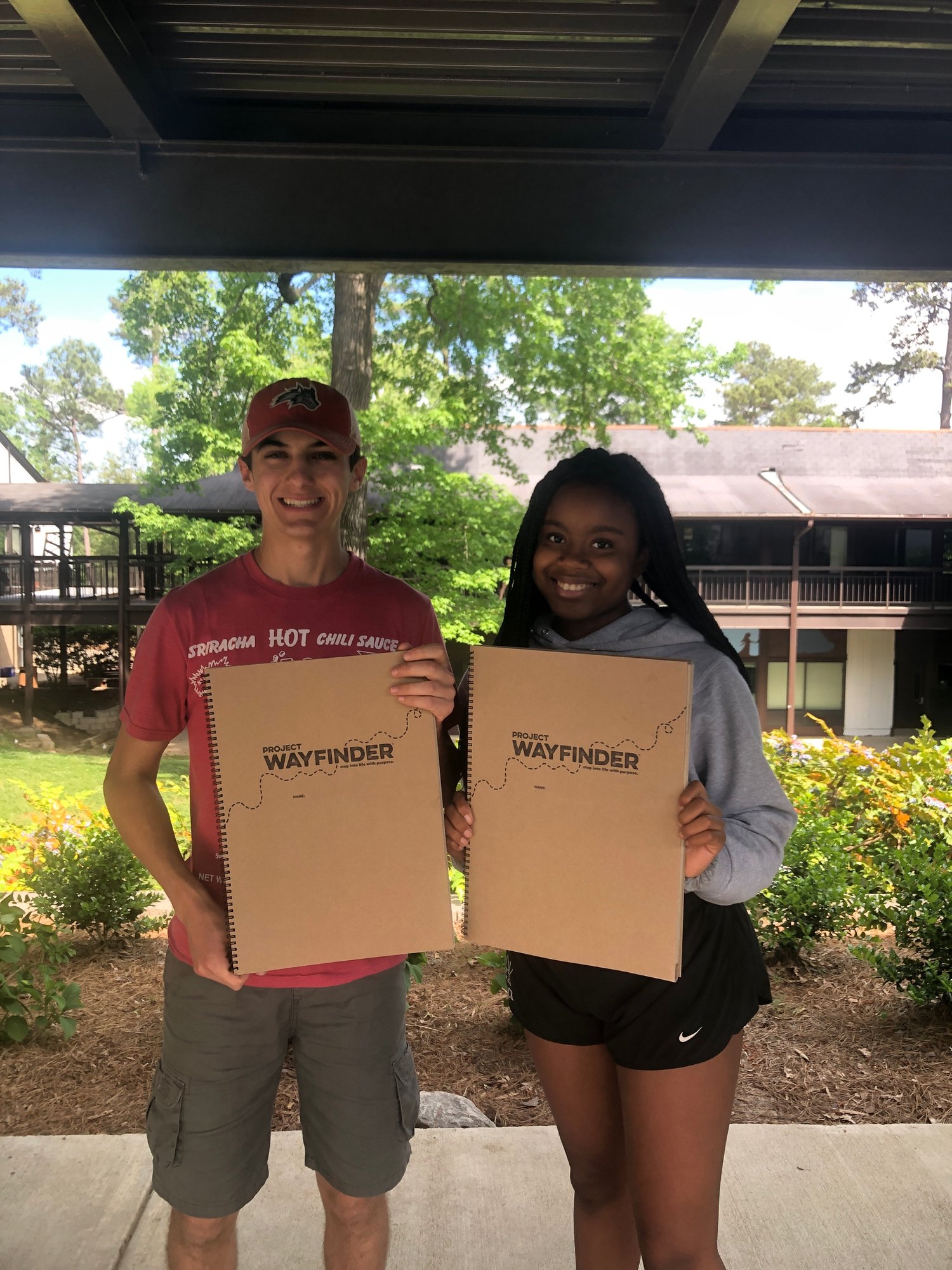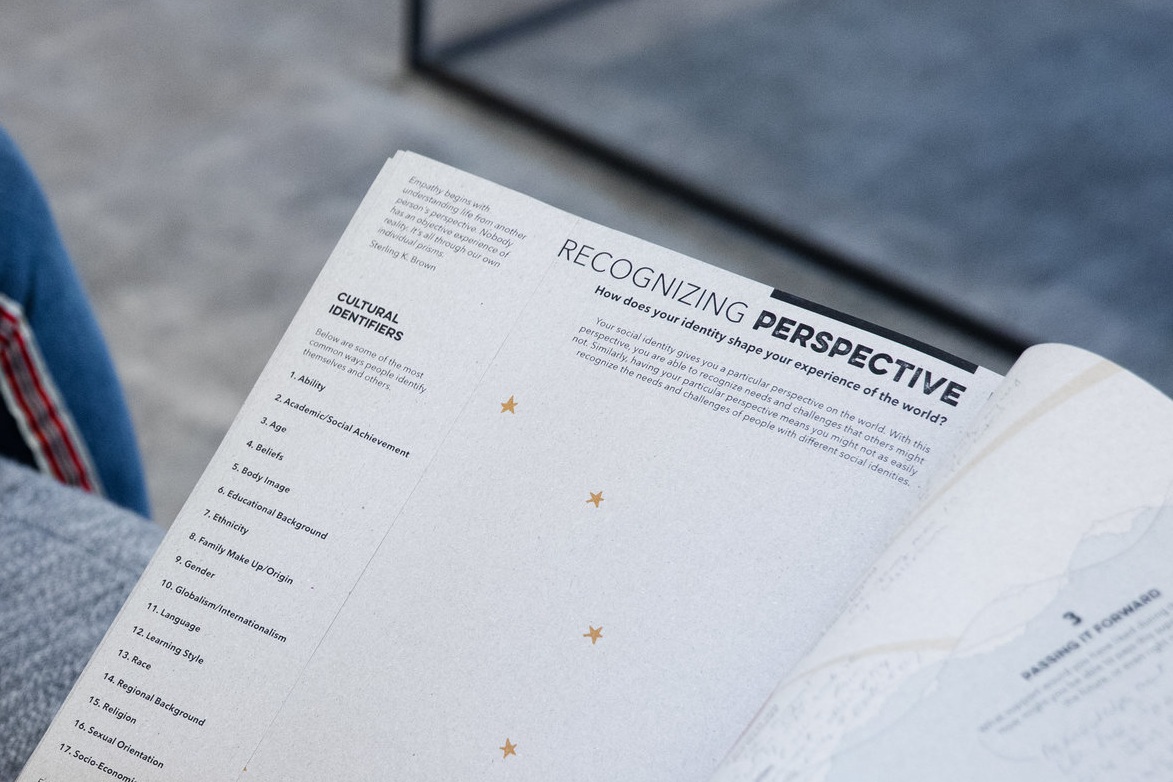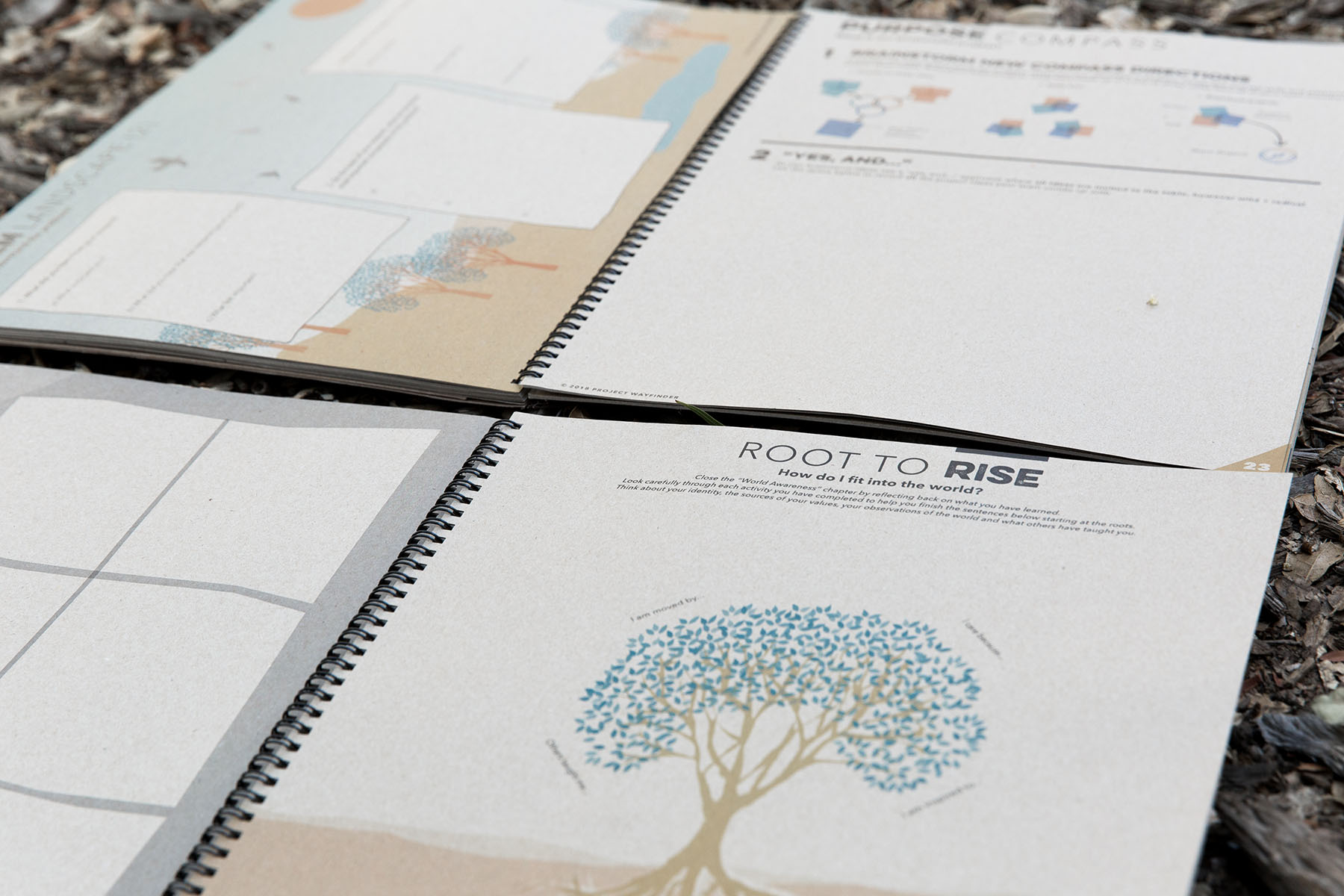 The Wayfinder Toolkit is offered as a beautifully bound booklet printed on large format, recycled Kraft paper in partnership with our green certified printer - a meaningful physical artifact for students in an increasingly digital world. The content within draws upon purpose development research, brain science, thousands of empathy interviews with "purpose exemplars" and classroom teachers, and practices from native wayfinding traditions.
THE Curriculum PURPOSE JOURNEY
Living with purpose means directing attention towards efforts that are both personally meaningful and impact the world beyond yourself. Our Purpose Toolkit guides students through a step-by-step process to uncover what matters to them so they can navigate their lives with purpose.
Laid out as a journey through 26 "big life questions" over four core chapters, each activity is designed as an hour-long lesson composed of experiential activities, personal reflection, group discussion and actionable practices. Wayfinder's Design Team offers a comprehensive overview of this curriculum journey in the video below.
All educators who complete the training and purchase Wayfinder Toolkits will be given access to our Online Teacher Portal with extensive digital resources providing over 80 hours of in-class programming. Trained Wayfinder teachers will also have the choice to purchase our Teacher Manual which contains printed copies of the online materials PLUS our signature Designer's Deck, Trail Guide, and Field Guide.
Complementary Teacher Tools
Each Wayfinder activity is accompanied by a comprehensive, downloadable Facilitation Guide containing a 60 minute lesson plan, quick guide, background research, opening experiential activity, group discussion questions, and a range of ways to dig deeper into the topic through practices outside of the classroom, readings and additional classroom activities.
Multimedia For The Classroom
Deepen the Wayfinder classroom experience with our complementary multimedia resources:
+ In class slide decks for every activity in the toolkit
+ A set of 26 quick warm-up, icebreaker activities
+ 6-minute mindfulness recordings
+ Music playlists to Create Focus, Build Community and Energize
+ Curated lists of articles, books, podcasts, films + art
+ Optional add-on coaching and classroom visits
HOW TO GET TOOLKITS + TEACHER MATERIALS
Project Wayfinder currently only accepts toolkit + manual orders from teachers/schools that have first completed a Wayfinder Training. If you are interested in getting trained with Wayfinder, we invite you to set up an exploratory call with our Outreach Team to discover which training options will best meet your needs.